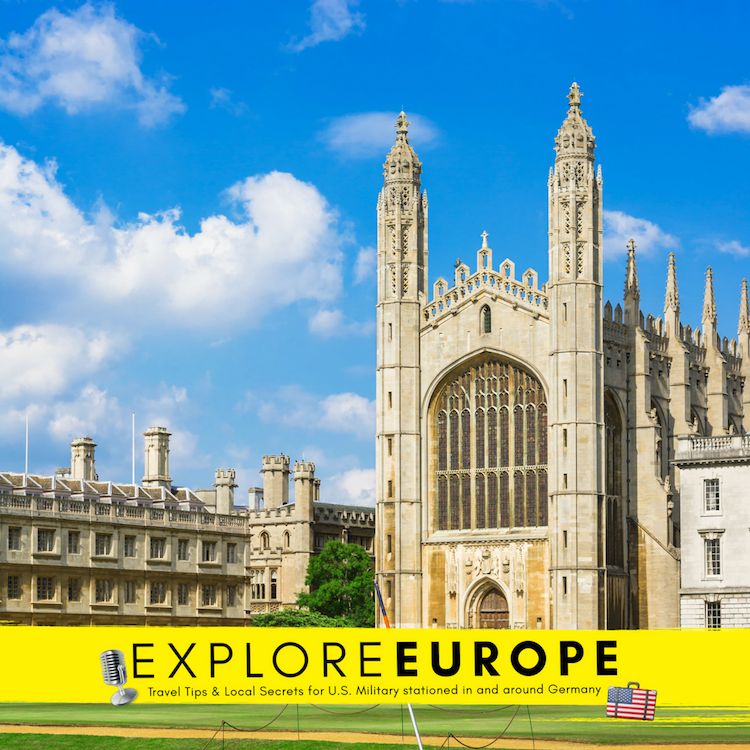 Explore Europe Cambridge, England Podcast Episode Show Notes
Here are the show notes from our Explore Europe Cambridge episode. 
The University City of Cambridge comprises 31 Colleges and over 150 departments, museums and other institutions. Founded in 1209 and granted a Royal Charter by King Henry III in 1231, Cambridge is the second-oldest university in the English-speaking world and the world's fourth-oldest surviving university.
You will see stunning examples of architecture just by walking through the cobbled streets of the city centre and Kings Parade, but the best way to see many of the central Colleges is to take a punt tour along the 'Backs' of the colleges that are situated along the River Cam. 
This is a really special episode for me and John to share because we go back to our home share some of our favourite places. There really is so much packed into this episode, we tried to fit so much in!
Here are the links from our Explore Europe Cambridge, England episode:
Getting to Cambridge
Trains from Stansted to Cambridge: https://www.thetrainline.com/train-times/stansted-airport-to-cambridge-station
Buses from Stansted to Cambridge: http://www.nationalexpress.com/coach/Landing/route.aspx?to=Cambridge&from=Stansted
Trains from London Kings Cross to Cambridge (also from Liverpool Street, which takes about 30 mins longer: https://www.thetrainline.com/train-times/london-kings-cross-to-cambridge-station
Staying in Cambridge
The Tamburlaine Hotel (pretty fancy - near train station): https://www.thetamburlaine.co.uk
The University Arms Hotel (pretty fancy -very central): https://universityarms.com
Prospero Homes Apartments: http://www.prosperohomes.co.uk
Duke House (gorgeous guest house - very central): http://dukehousecambridge.co.uk
University Students Rooms (very limited but very cool!):  https://www.speedybooker.com/en-GB/group/default.aspx?g=cambridge&brand=wl&partnerid=79&page=%2fen-GB%2fgroup%2fdefault.aspx
Things to Do & See in Cambridge
Cambridge Tourist Website: https://www.visitcambridge.org/
University of Cambridge Visitor Guide: https://www.cam.ac.uk/files/visitor_guide.pdf
Hop on hop off bus: https://city-sightseeing.com/en/87/cambridge
Visitors Guide to Colleges, Museums & Events at the University of Cambridge (note the Zoology Museum is now completely renovated and opened and highly recommended!): https://fusion2018.eng.cam.ac.uk/univisitorguide
Cambridge American Cemetery: https://www.abmc.gov/cemeteries-memorials/europe/cambridge-american-cemetery#.WxobAi-B1Bw
Cambridge University Museums & Collections: https://www.museums.cam.ac.uk
The Botanic Garden: http://www.botanic.cam.ac.uk/Botanic/Home.aspx
The Round Church (one of the four medieval round churches still in use in England): https://en.wikipedia.org/wiki/Holy_Sepulchre,_Cambridge
Let's Go Punting (friendly punt company - book in advance): https://www.letsgopunting.co.uk
Great St. Mary's Church (walk up to the top for great views): http://www.gsm.cam.ac.uk
The Cambridge Union Debating Society: https://www.cus.org
Ely Cathedral: https://www.elycathedral.org/visit
Pubs & Bars
1815 Bar at The Cambridge Union: https://www.1815-bar.co.uk
The Eagle Pub on Benet Street: https://en.wikipedia.org/wiki/The_Eagle,_Cambridge
Kings College: http://www.kings.cam.ac.uk/visit/index.html
Kings College Chapel Evensong: http://www.kings.cam.ac.uk/events/chapel-services
The Red Lion Pub in Granchester: http://www.redliongrantchester.co.uk
The Rupert Brooke Pub in Granchester: https://www.therupertbrooke.com
The Green Man Pub in Granchester: http://www.thegreenmangrantchester.co.uk
The Cambridge Gin Distillery: http://www.cambridgedistillery.co.uk
Six Roof Top Bar at The Varsity Hotel: https://www.sixcambridge.co.uk
Novi Roof Top Bar in Regent Street: http://novicambridge.co.uk
Restaurants & Food
Restaurant 22 (it's on Chesterton Road, not Chesterton Lane as we say in the podcast): http://www.restaurant22.co.uk
Midsummer House: http://www.midsummerhouse.co.uk
Steak & Honour: http://www.steakandhonour.co.uk
The Smoke Works (Michelle might have called it The Smoke House in the podcast): http://www.smokeworks.co.uk
Cambridge Food Park (lists all of the street food vans in Cambridge): http://www.foodparkcam.com
Cambridge Market: https://www.visitcambridge.org/shopping/cambridge-market-p528371
Podcast Conversation Timeline
00:01 - Welcome to the podcast
1:11 - Where are we going to be exploring today?
2:45 - How do you get to Cambridge?
5:40 - Accomodation - Where should you stay whilst visiting?
6:29 - Michelle explains how you can have your very own Cambridge University experience at the student Halls of residence. (And, possibly pretend that you're in the Harry Potter movies whilst you're at it).
7:25 - But, England's expensive, right? John lifts the lid on the REAL cost of visiting Cambridge
8:10 - More information about accomodation… how about staying with Michelle and John's cousin for a real authentic hosting experience?
8:55 - What should you see whilst you're there?
9:17 - John gets going with his famous podacst nooks and crannies of the area.
10:01 - It's transport time. Information about the park and ride and the hop on and hop off bus (John's fav : )
10:31 - Michelle shares her experience of visiting The American Cemetry and why you shouldn't miss it too.
11:59 - Michelle debunks the myths about the college system in the U.K. Let's see if you can keep up - I think John is struggling.
14:21 - What's the deal with Cambridge University? John and Michelle discuss what's great about it and how it got started and the rivalry between Oxford and Cambridge Universities.
15:19 - Michelle explains the best way to see the colleges of Cambrige
15:40 - John's must see's of Cambridge
15:51 - John tells us what Punting is and why you should totally do it whilst in Cambridge!
17:37 - What will you see whilst punting?
18:28 - Michelle and John prepare you for the weather and when the best time to visit ?
19:27 - Even Song - a free event at the free college
20:22 - John talks about the infamous King's college choir and theri Christmas concerts
20:41 - World famous Fitzwilliam Museum
21:04 - The Botanic Garden
21:26 - The Round Church, Bridge Street and The union Society
22:32 - A podcast insider tip for The Union Society. Listen closely as Michelle knows the bar manager of the place ; )
23:18 - Alumni of Cambridge University
23:58 - Footlights | The Union Society | ADC Theatre
25:52 - English Pubs and English Pub Grub talk
27:45 - Visit The Eagle - the most famous pub in Cambridge. But, why is it so famous?
29:30 - Gonville & Cauis Clock
30:04 - Granchester Meadows
31:38 - How about visiting The Cambridge Gin Distillery?
32:46 - Parker's Piece - What is is known for? John tells all
33:45 - Here we go…..Food Glorious Food. The best places to eat in Cambridge - from fine dining to street food fares, John and Michelle have you covered.
38:21 - The Rooftop Bars of Cambridge
39:45 - How about visas and passport restrictions?
40:16 - Scared of flying? John tells you how to get to England via Train.
42:19 - Do England accept dollars?
43:57 - Is Cambridge safe to visit?
45:48 - What about travelling with children?
47:18 - Michelle and John add a few more tips (and places to visit) during your trip to Cambridge.
48:30 - Bury St. Edmunds
50:17 - Michelle's sustainable travel tip
Thanks so much for listening explorers!
If you do visit Cambridge, please do let us know by leaving a comment or tweet using the hashtag #ExploreEurope. We'd love to know what you think about our home.  
Leave a comment/subscribe/tell a friend
A Massive Thank You For Listening!