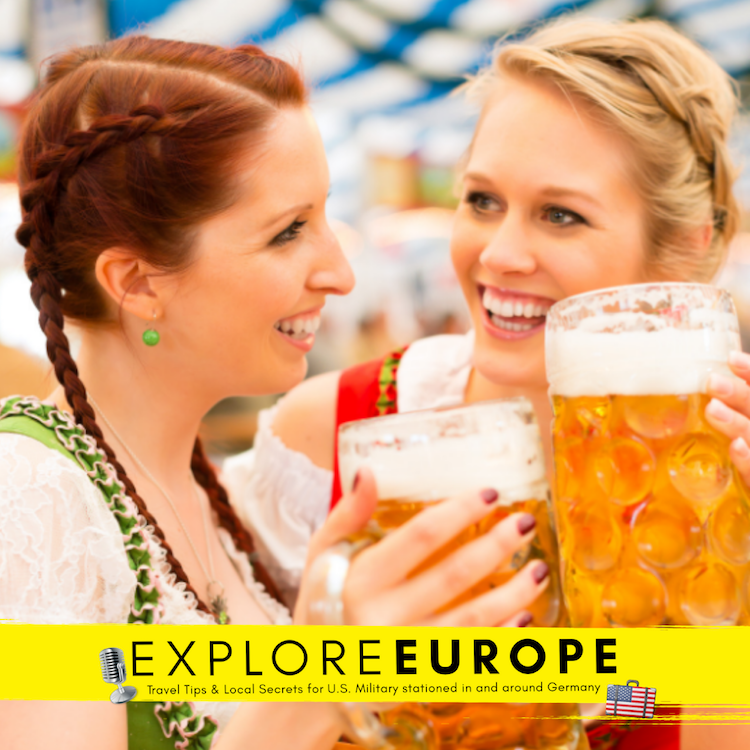 Explore Europe Oktoberfest & Volksfest Podcast Episode Show Notes
Welcome back to the first episde of our second series. Today we're visting the most beer famous festival in the world, Oktoberfest in Munich! 
But we're also sharing our insiders tip, which is to go to the Cannstatter Volksfest in Stuttgart for the exact same experience without the cost and hassle of getting to Munich with millions of other tourists. 
Whichever festival you visit, make sure you dress up in traditional Lederhosen or Dirndl and we think you'll have one of the best experiences of your time in Europe. Prost!
Here are the links from our Explore Europe Oktoberfest episode: 
The official Oktoberfest website for Munich: https://www.oktoberfest.de/en/
Book a table in the tents here: https://www.oktoberfest.de/en/ressort/The+big+tents/
The official Cannstatter website for Stuttgart: https://www.cannstatter-volksfest.de/en/landing-page/
Book a table in the tents here: https://www.cannstatter-volksfest.de/en/tents/
Some useful keywords when booking:
Reservierung = reservation
Hauptschiff = main section
Stehplatz = standing only
Tisch = table
Mittags = midday/daytime
Abends = evenings
Essensmarken = food vouchers
Getränkemarken = drinks vouchers
Einlassband = entry wristband
The website for the Tannenbaum Ski Club which organises trips to both Oktoberfest and Canntastter Volksfest: https://www.tannenbaumskiclub.org
Looking for a Dirndl or Lederhosen? Check out C&A: https://www.c-and-a.com/de/de/shop/damen-sale-dirndl-trachten
Discover more of Jen Gale's easy to implement sustainable living tips here: www.asustainablelife.co.uk
Podcast Conversation Timeline
00:01 - Welcome to the 2nd Series of Explore Europe
1:49 - Today's episode is dedicated to the German beer festivals - Oktoberfest and Cannstatter Volksfest.
2:17 - But, why is is called Oktoberfest?
2:57 - When is Oktoberfest?
3:21 - What we all want to know is…has John been to an Oktoberfest festival and if so, would he recommend it?
4:00 - The best way to travel to Oktoberfest? (…and John mentions his favourite - booking.com!
7:24 - All the details on booking a table and making the most of your time at the festival.
8:57 - Munich or Stuttgart? Who has the best Beer festival?
12:08 - Food - Part 1: What type of fare can I expect?
13:01 - More information on how to book your tickets and table
21:17 - Money Part 1: So, how can you pay for items at the Oktoberfest?
22:43 - Should you wear German traditional clothes to attend? …Michelle gives you some money saving tips.
26:55 - Oktoberfest = alcohol……so, what about families? Is it child-friendly?
28:56 - Food Part 2: More on the subject of the glorious food on offer at the Oktoberfest.
29:46 - With over 10,000 in attendance, John and Michelle discuss safety at the festivals. Is it safe to visit?
31:08 - Money Part 2: Should you bring a credit card with you?
31:31 - John gives some insider tips for getting to the Stuttgart Oktoberfest from the KMC area.
33:33 - Michelle and John tease an upcoming episode destination and maybe even be attending an Oktoberfest this September too.
35:07 - Michelle's Episode Round-up
35:33 - Jen Gayle's Sustainable Travel Tip - stay away from cheap souvenirs made in China!
A Massive Thank You For Listening!
Are you planning to visit Oktoberfest or Cannstatter Volksfest? We would love to hear all about your trip and any tips you have for fellow explorers. Leave a comment below or tweet us at @explore_europe and use the hashtag #ExploreEurope
Please leave a comment/subscribe/tell a friend