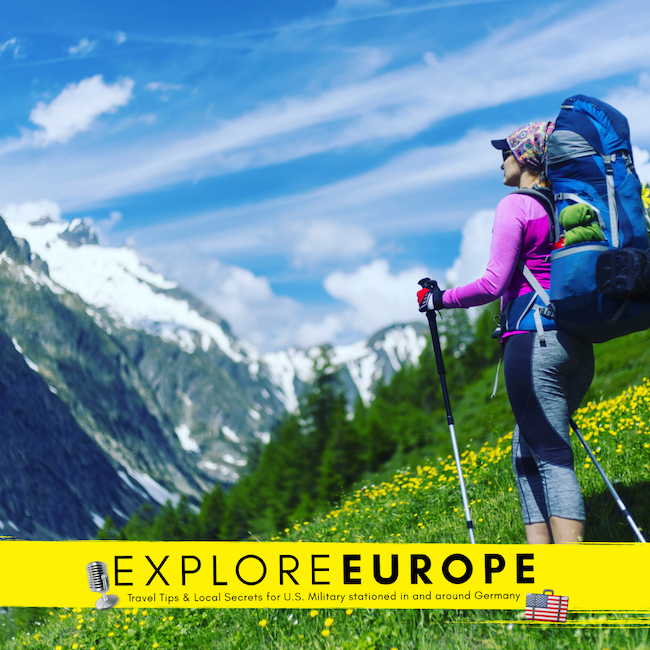 Explore Europe Mont Blanc Trail Podcast Episode Show Notes
The Tour du Mont Blanc is a unique trek of approximately 200km around Mont Blanc that can be completed in between 7 and 10 days passing through Italy, Switzerland and France. It's one of the most famous and exhilarating treks in Europe. Hikers, climbers and mountaineers will love the authenticity of the overnights offered by mountain refuges and gites along the Tour du Mont Blanc.
Our special guest, Kaiserslautern school music teacher Gretchen Lynch, explains that you do not need to be a hardcore mountaineer to do the Mont Blanc Trail. She shares her short version of the trail with us along with all of her tips that will ensure even total beginners to hiking can accomplish this unforgetful bucket-list trek. 
Here are some detailed notes and links from our Explore Europe Mont Blanc Trail episode:

 
Website about Tour:  http://www.autourdumontblanc.com/en/
What to bring - everything fits fine in a 30L backpack from Decathalon.
fold up hiking poles

lightweight gloves and hat

sleep sack, sleep clothes

poncho

2 pairs of hiking shorts and shirts

long sleeved micofiber shirt

light fleece

Sunscreen & bugspray

toiletries, microfibre towel

gallon ziplock bags to keep clothes dry in case it rains

YakTrax or crampons if you hike early in the season for the snow crossings

ear plugs

good hiking shoes

flip flops if you don't want to wear the ones provided (I brought them but they were not necessary!)

cell phone and charger, - get one that works in Switzerland

hydration bladder or water bottles

Pack light - you are carrying everything!
Entire tour takes about 2 weeks.  We did half of the tour, but took a bus through the mountain from Chamonix France to Courmayeur Italy to cut our tour to one week.  The bus is just 15 Euro per person.
We parked near the trail's end in Chamonix.  It was free and so nice to come out right near our car when we finished a week later!
We put our kids in camp so we could do this as a couples trip (we went with another couple whose daughter stayed with family friends.) Germany's sleepaway camps are very affordable compared to the United States.  We have been very happy with Camp Adventure which offers one and two week sessions and is a bilingual camp, so everything is in both English and German. https://www.campadventure.de/en/ 
Each day you hike about 6 hours and then stay in a refuge. Refuges are like hostels, but they are on the hiking route (many high in mountains and must be stocked by donkeys or helicopters!) and almost always provide breakfast and dinner. For about 10 Euros you can also buy a sack lunch for your hike. Price per night ranged from 41 (and that one was our favorite!) to 70 Euros per person.  
We hiked through three countries - starting in Italy, then Switzerland, and finished in France. The main language on the train was French, even in Italy. We didn't hear German at all! The refuges all had English speaking staff and most of the hikers also spoke English.
Other than lodging, our only costs on the trip were gas (we filled in Germany near the border and didn't have to refuel til we got back home), the 15 Euro bus ticket, lunches (either 10 sack lunches from the refuges or purchased from grocery stores along the route), coffees along the route, and wine/ beer at the refuges. Beer was pricey compared to Europe - about 7 Euros for a half litre, 4 for .33 litre. House wine was about 8-12 for a half litre carafe to share at dinner.
Make sure you take out both Francs (get at an ATM on the drive down) and Euros and have enough cash to pay for both your lodging - they almost always only take cash - and your lunches/ snacks/ drinks. You can pay in Euros in Switzerland but you will get a bad exchange rate - like Euro for Dollar.
BOOK YOUR TRIP IN ADVANCE. We made the mistake of waiting too long and some of the refuges were full, therefore instead of having nice even 6 hour hiking days, we had one day that was 2 hours and one day that was 10! Dinner is generally served starting at 6:30 or 7pm, so you need to be at your refuge prior to that. Breakfast is normally at 7am.
Check out the website and see if there is damage to the trails. If so you will have to amend your route.
THE VIEWS ARE GORGEOUS. Just GORGEOUS. The entire way.
You will never really be high enough up to get Altitude sickness. But you have views of higher mountains since you climb a loop around the Mont Blanc range.
Our favorite refuge was Gite Le Moulin in Argentiere. The owner cooked the most AMAZING French cuisine. All the food we had on the trip was good, and specific to the country we were in. Pasta in Italy, baked Swiss cheese in Switzerland etc. I believe all of the refuges could cater to Vegetarians/ Gluten Free etc. if contacted in advance.
It IS important to be in pretty good shape for the trip. You don't have to be an amazing athlete, but definitely have good cardiovascular fitness. If you aren't regularly exercising you might want to spend the three months before the trip doing some uphill treadmill walking or find some good trails in the area and use them.
For the most part the trail isn't dangerous, but there were a few snow crossings, stream crossings, and a couple places with steep drop offs. All of the drop offs had wire ropes to hold on to. There was a trail at the end with a long section of ladders and cables. I'm afraid of heights and found this scary, but it is possible to avoid that section by taking an alternate route.
Best time of year to hike is July, August, or September. We did the last week of June which was still early and much of the snow wasn't melted. You can't really do any earlier than that. Early October would likely be chilly but still okay.
Podcast Conversation Timeline: 
00:01 - Introduction to our wonderful episode on the Mont Blanc trail
1:22 - What brings Gretchen to Germany?
2:18 - How did Gretchen meet her Husband?
03:54 - Where are we exploring today and why should we do it?
05:23 - How dangerous is it to climb Mont Blanc?
06:20 - Can you take the family to Mont Blanc?
08:15 - Details of  Day 1 of Gretchen's Mont Blanc adventure
10:42 -  Day 1: Accommodation and tips on booking accomodation at different times of year
12:32 - Food at the hostels and accomodation - what to expect
13:15 - Were there any language barriers? How did Gretchen cope with so many different European languages?
14:12 - Booking accommodation in Mont Blanc
14:41 - How fast do you need to walk the trail?
15:55 - Michelle is so happy with the idea of a packet lunch provided by your accommodation. Gretchen tells us more details
16:57 - What do you need to take with you?
18:50 - Information about the villages, trail incline and time taken to climb
20:01 - Michelle delves into more detail about Gretchen's favourite spot along the tour
20:56 - Gretchen tells all about the ladder climbing
24:14 - Is Gretchen brave enough to take the ladder route if she had to do it again?
24:55 - What are the dangers of the hike?
26:35 - Anything else to consider when planning a trip to Mont Blanc, Gretchen?
31:03 - Are you able to keep in contact with your hiking buddies whilst on the trail via cell phones etc?
32:24 - What did the final day have in store for Gretchen and Co?
33:19 - Mont Blanc Cable Car from Chamonix
33:35 - What currency should you carry and should it all be in cash?
33:10 - Did you have to pre-order your meals when you arrived at the accommodation?
35:28 - How about dietary requirements?
36:36 - How much does a 5 night trip cost?
38:35 - Would Gretchen recommend this trip for everyone?
40:13 - Is the trail signposted or do you need to a great map-reader?
42:39 - Michelle's 'Mont Blanc Trail' overview
43:17 - The sustainable travel tip with Jen Gayle
A Massive Thank You For Listening!
I am already planning to replicate Gretchen's Mont Blanc Trail trek next year - I love the way she makes it feel less intimidating! Would you try it? We would love to hear all about your trip and any tips you have for fellow explorers. Leave a comment below or tweet us at @explore_europe and use the hashtag #ExploreEurope
Please leave a comment/subscribe/tell a friend