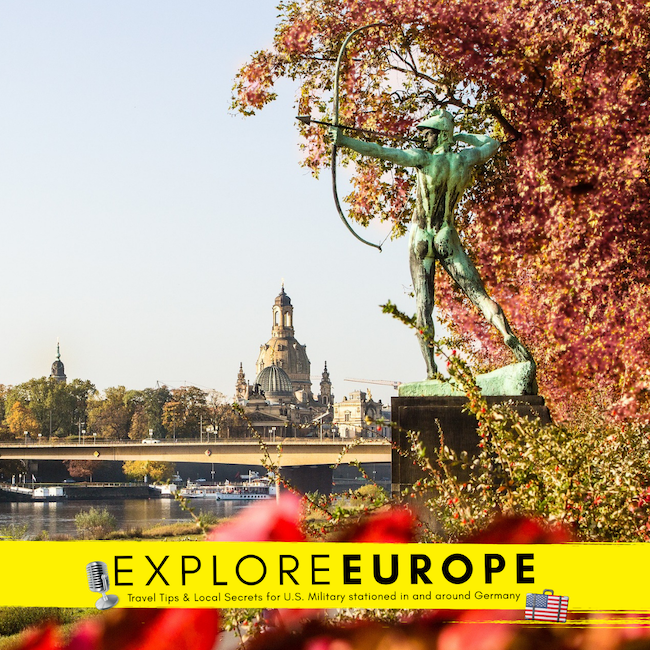 Explore Europe Dresden Podcast Episode Show Notes
Dresden is the capital of the German state of Saxony. It's situated in a valley on the River Elbe, near the border with the Czech Republic and was part of the former East Germany until reunification in 1990.
The city has experienced dramatic changes since the early 1990s. It still bears many wounds from the controversial bombing raids of 1945, but it has undergone significant reconstruction and the buildings have been mostly restored to their former glory.
Dresden is once again a cultural, educational and political centre of Germany and Europe.
Here are the links from our Explore Europe Dresden episode:
The Indian restaurant that John raves about: http://www.littleindia-dresden.de/
The Fish restaurant: https://kastenmeiers.de/
The Opera: https://www.semperoper.de
The famous Frauenkirche: https://www.frauenkirche-dresden.de/
Walking tours: http://www.dresden-cultour.de/de/fuehrungen/stadtfuehrungen.html
The Palace with the lovely gardens: https://www.grosser-garten-dresden.de/de/startseite/
Podcast Conversation Timeline:
00:01 - Introduction
1:00 - John gives us a brief overview of Dresden's history
2:20 -What is the transport like in Dresden? How about getting to and from Dresden, and parking the car?
3:16 - Did John use booking.com for his hotel reservation? Find out here…
3:50 - John gives you more history about Dresden and it's East Germany past.
So, What did John and Ramona do whilst in Dresden?
5:10 - Did John eat the best indian curry he's ever had in Germany?
5:59 - John tells all about his very sophisticated outing to the Dresden Opera house….and his star spotting experience too!
8:15 - A must see highlight of Dresden - The Frauenkirche
11:01 - Where is John's Explore Europe favorite hop on and hop off bus in today's episode?
11:24 - The palaces of Dresden
12:43 - Find out how to get around the city centre?…..
Meanwhile, John makes a bold statement about Dresden!
15:23 - Do you have to pre-book tickets for the tourist attractions?
17:04 - John recommends an amazing fish restaurant to visit
17:59 - Michelle goes through the practicalities of travelling to Dresden: Visa to visit?/ Cash vs Card debt/ English speaking?/ Is it safe?
20:23 - Would John recommend Dresden with kids?
21:18 - The walking tour of Dresden
23:10 - The beautiful Christmas Markets - a must see during the holiday season
24:42 - Michelle's overview of the awesome Dresden
25:23 - The sustainable travel tip with Jen Gale
Thanks for listening and we'll see you next time for another episode of Explore Europe!