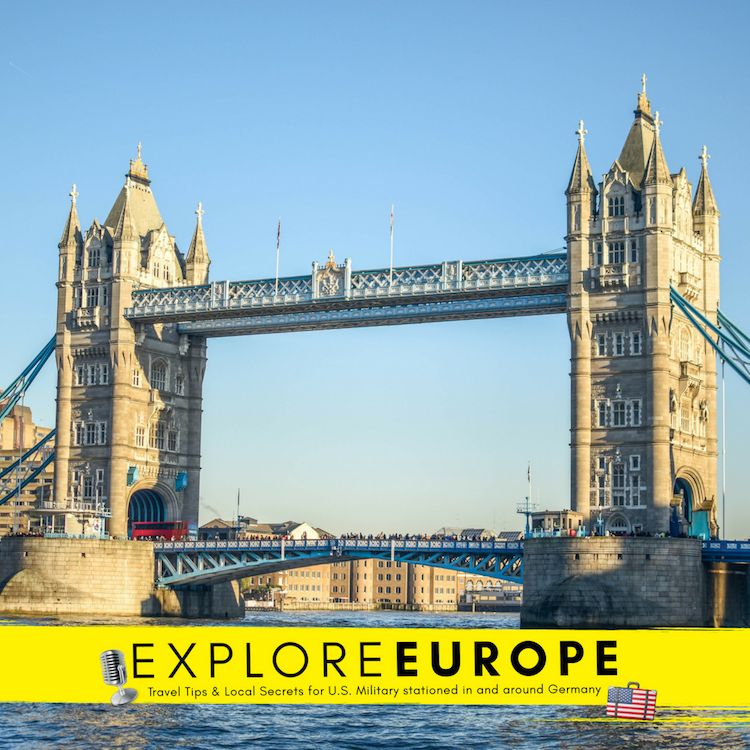 Explore Europe London in England Podcast Episode Show Notes
You have to experience London two or three times whilst you are on tour in Germany, because it's such an amazing city and you need to go several times to truly appreciate it. I hope this episode gives you some great ideas to get the best from the first visit as a reccie. I hope we have shown you that you don't need to spend a fortune paying to get into famous landmarks or exhibits. There is a huge amount of London that you can see, do and experience for little or no money.
Our main advice is to slow down, walk whenever you can or take the boat. Choose one area to explore in a day and then experience it like a local. Look up at all times - you will find the most amazing sights, sounds and smells of London all around you. Just absorb the atmosphere and the experience. Then drop us a line at hello@exploreeurope.net or tweet us at @explore_europe and tell us all about it!
Here are the links from our Explore Europe London episode:
Accommodation
Hotel - Michelle's recommend is the Premier Inn chain.
Our tip is to stay around the Southbank, Borough, Bankside area so put zip code SE1 into the search field. 
Travel
Pre-register your contactless card: https://tfl.gov.uk/fares-and-payments/contactless/what-are-contactless-payment-cards?intcmp=8610
The train from Stansted airport to London Liverpool Street: https://www.stanstedexpress.com
The bus from Stansted airport to London - if you stay at any of the hotels that Michelle recommends along the Southbank/Borough/Bankside area of London then take the A7 to either Southbank or Waterloo (depending on your hotel location): https://www.nationalexpress.com/en/airports/stansted
Thames Clippers is 'the boat' that Michelle refers to throughout the podcast (don't bother with the tourist version, its a waste of money!): https://www.thamesclippers.com
The infamous hop-on hop-off bus: https://www.hop-on-hop-off-bus.com/london-bus-tours
The London Underground (the tube to Londoners): https://tfl.gov.uk/maps/track/tube
The Explore Europe - Guide to London - this is the itinerary that Michelle refers to throughout the podcast: 
Restaurants
All you can eat Portuguese tapas and drinking cava on Sundays: http://pix-bar.com
Good value chain: https://www.zizzi.co.uk
European/healthy: https://wildwoodrestaurants.co.uk
The Ivy: https://ivycollection.com
Duck & Waffle: https://duckandwaffle.com
Food Markets
South Bank Real Food Market: https://www.southbankcentre.co.uk/visit/shopping/markets/scfood-market
Borough Market: http://boroughmarket.org.uk
Other Markets
Spitalfields Market: https://oldspitalfieldsmarket.com
Columbia Road Flower Market: http://www.columbiaroad.info
Brick Lane: http://www.visitbricklane.org
Other Stuff To Do
Check out Time Out magazine, here's their website: https://www.timeout.com/london
Museums in London (they're free!): https://www.visitlondon.com/things-to-do/sightseeing/london-attraction/museum/free-museums-in-london
Kensington Palace Garden: https://www.hrp.org.uk/kensington-palace/explore/the-palace-gardens/
The Diana Princess of Wales Memorial Walk: https://www.royalparks.org.uk/parks/hyde-park/things-to-see-and-do/sports-and-leisure/the-diana-princess-of-wales-memorial-walk
Covent Garden: https://www.coventgarden.london
Sky Garden - visit this instead of paying for the Shard: https://skygarden.london/sky-garden
Discounted theatre booth in Leicester Square: https://officiallondontheatre.com/tkts/
Full price theatre tickets: https://officiallondontheatre.com/theatre-tickets/
Michelle's Sustainable Travel Tip
Download this app to access over 2000 places to refill your reusable water bottles all over London: https://www.refill.org.uk/refill-scheme/london/
Podcast Conversation Timeline
00:01 - Introduction to the London podcast
3:51 - How can you get to London from Germany? From flights to coaches and trains. We've got you covered.
7:51 - John's fun facts about London
8:40 - Michelle fills you in on all the best ways to transfer from the Airport into London.
9:10 - All things Oyster Cards, Contactless Credit Cards, and why it's so simple to use the transport system.
11:34 - Michelle's super insider travel tip - Thames Clipper Boats
13:51 - So, what about the infamous Underground system (or 'the tube' as it's know to the locals). How do you use it? Is it complicated?  
14:46 - Michelle's No.1 tip when it comes to getting around London? It's not what you might think.
16:25 - Michelle talks about how you can get hold of your very own Explore Europe Guide To London
16:56 - Exploring the London Bridge Itinerary
18:35 - Where should you stay whilst visiting London?
22:39 - Michelle's handy hotel hack
23:02 - What hotel options are available to visitors?
24:54 - What is there to do in London?
25:46 - John can't quite believe it when Michelle tells him that Museums in London are free admission.
26:25 - But, which Museum should you go to? Michelle's got the inside scoop
27:24 - Exploring the Kensington Itinerary
28:40 -Food Part 1 |  Street Food/Markets
33:04 - Food Part 2 | Brick Lane - Curry: The National Dish of Great Britain
35:20  - The Markets of London - From flowers to antiques and bric-a-brac
35:59 - Michelle's restaurant tips
36:43 - Food Part 3 - Medium priced Fare Recommendations
38:13 - Food part 4 - John's favorite restaurant recommendation
39:20 - Food Part 5 - Michelle LOVES Duck & Waffle
40:17 - Who needs The Shard when you can have Sky Gardens?
43:15 - Yeah, Johns infamous hop on hop off buses makes an appearance!
45:12 - London's West End Theatre Experience
48:08 - John and Michelle's Tips for booking theatre tickets in London
50:15 - What activities are there to do in the city?  
53:50 - The Great British Weather!
54:03 - Is London family-friendly?
55:29 - Spending money…. Is it easy to use your card in London or is it best to bring cash?
56:59 - Can't have an episode on London without talking about British Pubs. Michelle and John give you all the insider knowledge on what to expect.
58:02 - What visa/passport do you need when travelling to London?
58:58 - How about travelling with orders?
59:30 - Is London a safe place to visit?
1:01:22 - Overview of this mammouth episode
1:04:13 - Michelle's Personal Story of London
1:06:28 - Michelle's Sustainable Travel Tip
A Massive Thank You For Listening!
Are you planning to visit the London? We would love to hear all about your trip and any tips you have for fellow explorers. Leave a comment below or tweet us at @explore_europe and use the hashtag #ExploreEurope
That's the last episode in our first series of Explore Europe but we are already planning the second series. So I hope you join us again soon so we can help you get the best out of your tour.
Thank you for listening and we'll see you in the next series Explorers.
Please leave a comment/subscribe/tell a friend