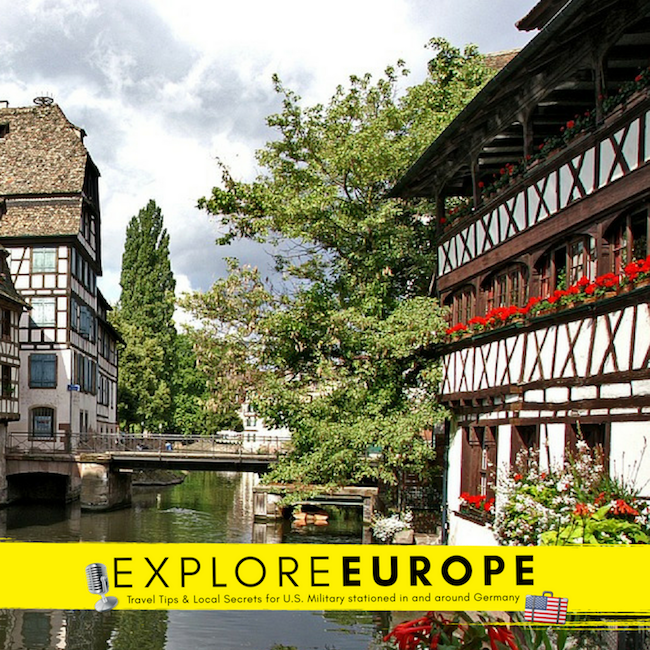 Explore Europe Strasbourg, France Podcast Episode Show Notes
Here are the show notes from our Explore Europe Strasbourg episode. 
Strasbourg is such a picturesque place which manages to somehow balance the medieval architecture of winding cobble stone alleys and crooked half-timbered houses with the modern progressive EU Quarter and France's second-largest student population.
It is perhaps this unique style that seems to show case the very best of France and Germany.
Here are the links from our Explore Europe Strasbourg, France episode: 
The hotel where John stayed:  https://www.regent-contades.com/en/
John's favourite booking engine for hotels: https://www.booking.com
Great article on what to do in Strasbourg for a weekend: https://www.independent.co.uk/travel/48-hours-in/strasbourg-city-guide-france-what-to-do-alsace-european-parliament-best-hotels-restaurants-a7943161.html
Strasbourg Tourist Website: http://www.otstrasbourg.fr/en/
Strasbourg Cathedral: https://www.strasbourg.info/cathedral/
Le Petit Train - the tourist train around Strasbourg: https://petit-train-strasbourg.fr/?lang=en
All about Le Petit France: https://en.wikipedia.org/wiki/Petite_France,_Strasbourg
All about the Grand Island: https://en.wikipedia.org/wiki/Grande_Île_(Strasbourg)
Visiting the European Parliament: http://www.europarl.europa.eu/visiting/en/strasbourg/hemicycle-parlamentarium-visits
The lovely restaurant where John had green eggs (ha ha): http://cheznousstrasbourg.com/
All about Flammkueche or Tarte Flambe as it's known in France: https://en.wikipedia.org/wiki/Tarte_flambée
All about Le Tour de France: https://www.letour.fr/en/
Strasbourg Christmas Markets: https://noel.strasbourg.eu/en/les-marches-de-noel
The initiative that Michelle mentions during her sustainable travel tip. Take 3 for the Sea: https://www.take3.org
Podcast Conversation Timeline
00:01 - Welcome to Explore Europe
01:09 - Where are we exploring today?
01:29 - But, Strasbourg is in Germany, isn't it?
02:14 - How do you travel to Strasbourg? Can you park easily?
02:58 - John tells us how he found his accommodation and when you should NOT go to Strasbourg (is that even possible? …well, John gives you the lowdown).
04:10 - The Strasbourg Cathedral - From the history, to visiting the sight and how to getting there
05:32 - The Astronomical Clock - great to visit with kids
06:48 - John tells us the best way to visit the city - Le Petit Train  
08:15 - Learn all about the 'Instagrammable' Le Petit France
09:18 - The Grand Island - Unesco World Heritage Site
9:58 - Do you have to speak French to visit?
10:27 - John adds more details about the Le Petit Train and what you'll see on your adventure
10:55 - Here you'll learn about the 17th Century bridge with the best views of the City
11:20 - And then a 13th Century Bridge where you can see how the town is split.
11:42 - Here we go, it's food time (can I get an amen?!) The question is……..Can Michelle get her favourite dish in Strasbourg?
14:38 - Should you pre-book your restaurant choices or can you walk-in? Also, the eating habits of European Culture
15:38 - What currency do I need to take?
16:07 - When is the best time to visit?
16:20 - John is excited to divulge all matters relating to the French cycle race - Le Tour De France
17:36 - The Christmas Markets of Strasbourg
18:22 - Strasbourg - Is it really a great all-rounder city?
19:28 - Michelle's Travel Tip - Take Three for The Sea
Thanks so much for listening explorers!
If you do visit Strasbourg, please do let us know by leaving a comment or tweet using the hashtag #ExploreEurope. We'd love to know what you think!  
Leave a comment/subscribe/tell a friend
A Massive Thank You For Listening!